Sunday night we were invited to attend another
Manhattan Cocktail Classic
event - the
Campari
"Spritied Fête for the Senses Inspired by Padma Lakshmi" at
The Box
in the Lower East Side.
We should probably preface this post with three things. One, we are big fans of the cocktail. We are very big fans of the Negroni. Finally, we are
obsessed
with the color red. And as you can imagine, a
Campari
event at a burlesque club with its red hued lighting coupled with the seductively red and divinely delicious cocktails had us swooning all night.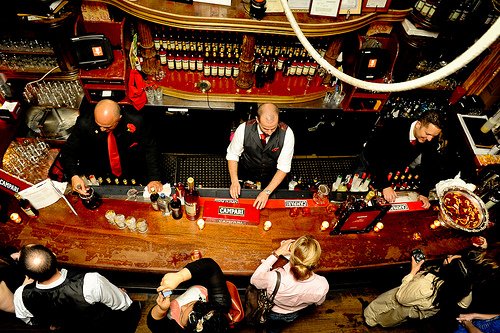 Image Via MetroMix
There were three bars set up with master mixologists manning each. Tony Abou-Ganim of
"The Modern Mixologist"
, Jim Meehan of
PDT
,
Jacques Bezuidenhout
, Francesco Lafranconi from
Southern Wine & Spirits
, and Chad Solomon & Christy Pope of
Cuff & Buttons
each had a specialty cocktail that was inspired by Padma Lakshmi's new cookbook
"Tangy Tart Hot and Sweet"
. Each cocktail was extremely creative and interesting, ranging in flavours from bitter, sour, spicy, and sweet.
While
all
of the cocktails were delicious, our favorite was Lafraconi's
Sweet
cocktail - the Taj Milan:
Campari
,
Plymouth Gin
,
Strega Liqueur
(made with saffron, mint, and fennel), Indian Mango Curry, and Coconut Foam. A controversial choice we know, but it was sweet, spicy, and bitter at the same time and surprisingly savory and sophisticated.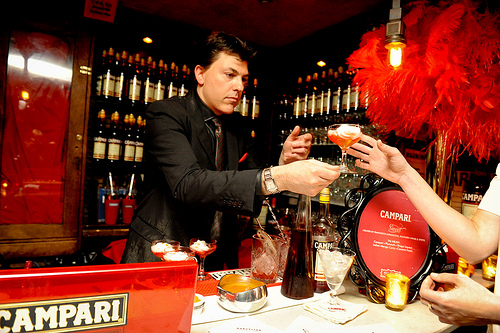 Foamy and Delicious - The Taj Milan
Image Via MetroMix

Above the main bar burlesque dancers teased the accomplished bartenders - flipping, posing, dangling toes inches from them (how they kept their focus, we do not know).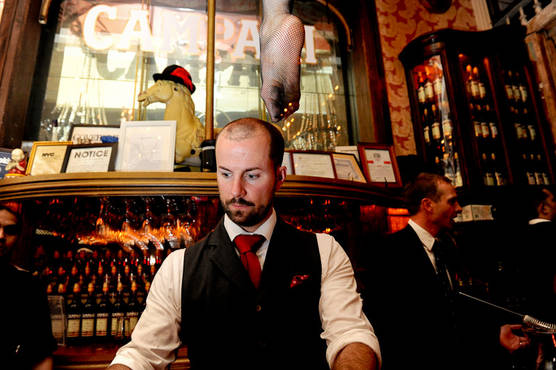 Ok, maybe they didn't.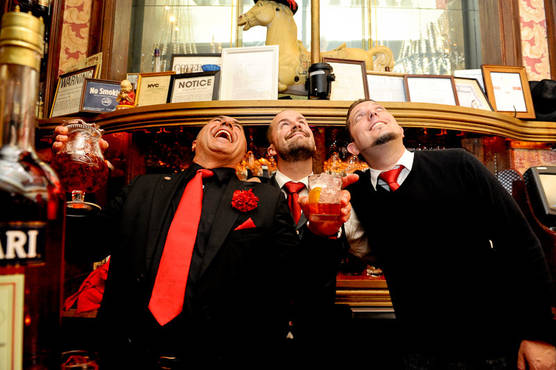 Image Via MetroMix
Waitresses in red dresses delivered bites to the crowd as they settled in to find seats from for the show. When Ms. Lakshmi arrived - all the men in the room turned their heads and almost in unison howled, "Padma is
SO
sexy". Wearing an unforgiving Alaia in Campari red, she certainly makes an impression. (Seriously, who is her trainer? We want that number).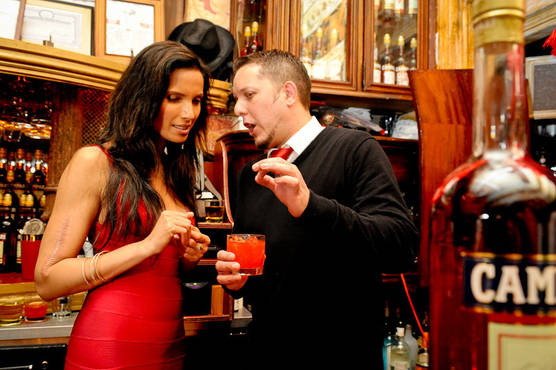 Image Via MetroMix
Everyone knows her as a host of Top Chef and bona fide hottie, but let's give her more credit than that. She has written two cookbooks, speaks five languages, has her own
jewelry
line, her own line of
exotic spices
, has had a successful modelling career, has been featured in numerous films, was the hostess of Italy's
Domenica In
, and she co-founded
The Endometriosis Foundation of America
. Not too shabby, we say.
Ms Lakshmi worked the crowd, and took a few minutes to answer some questions - her favorite cocktails, hangover cures, favorite recipes, what inspired her cookbooks, what a man should cook to impress a woman (a great steak, a great burger, a roast chicken, and a great dessert), cocktail party survival tricks (eat first), and finally, what was the most helpful thing in her career that has helped her get where she is today (thinking quick while hosting
Domenica In
, as well as learning the Italian sensibility and sensuality).
After Ms. Lakshmi's introduction, the show began. Although performances were deemed PG-13 by the MC, they were nonetheless exciting and
very
sexy. No photos due to The Box policy - many apologies. Instead, we give you those oh so sexy and glamorous Campari Ads: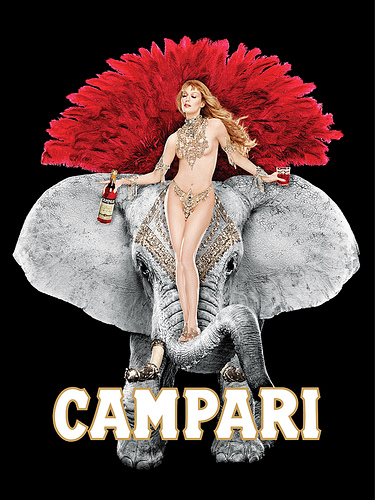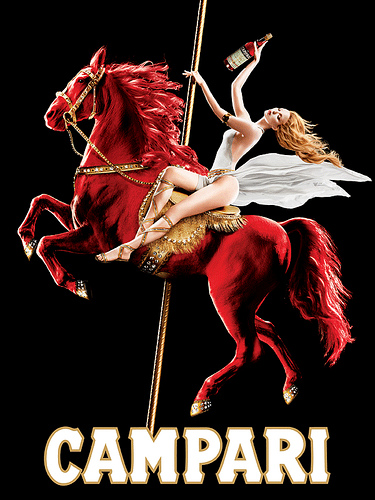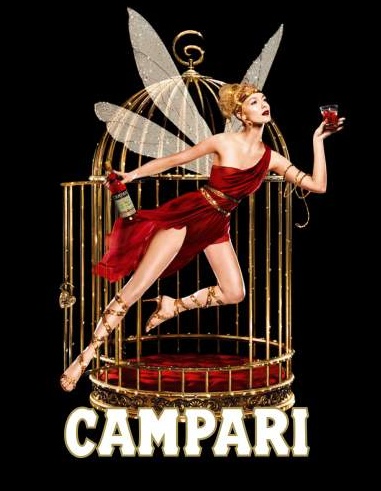 In our humble opinion, Padma can sure bring on the glamour, and this event got us thinking; we would love to see Padma as the new face for Campari. Sure to be Tangy, Tart, Hot and Sweet!